Become a Title365 Signings Agent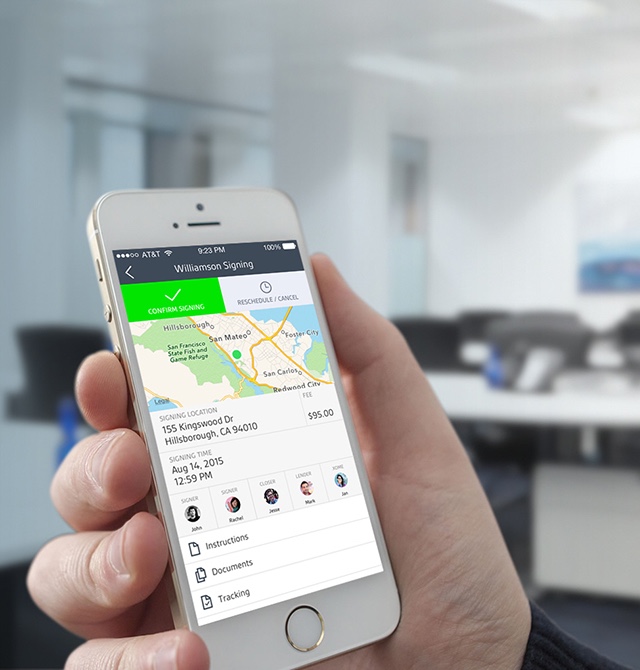 The Title365 Signings app has arrived. Sign up now to start receiving signing orders.
You've worked hard to build your reputation as a professional, commissioned notary. Title365 Signings works with the best notaries (or as we like to call them "Title365 Signings Agents") in the nation and is always looking for professionals like you.
Working with Title365 Signings will give you tools that extend your professionalism, and your business. Better yet, once you complete your signing, an invoice is automatically generated and processed so you are paid within days, not weeks.
Features for Title365 Signings Agents
Receive access to daily signing orders with a remarkable new tool that will help you provide the best service.
Signing Management
Receive new signings in your area, daily, all from one convenient place.
Capture business by responding to order signing requests instantly.
Sync your scheduled signings with your calendar and set reminders.
On-the-go access to all the necessary signing documents. Print directly from the app or desktop.
View real-time driving directions and distance calculations.
Find the nearest UPS Drop-off based on your current location.
Print shipping labels right from the Title365 Signings app and follow the progress of the signed documents to the shipping destination.
Complete fax backs directly from the app. Snap a photo and send.
Real-time Communication
Always be in the loop. Be notified in real-time via push notification, text message and/or email message of new signing orders, updates to scheduled orders, document delivery, invoice payments, license expiration, completed signing reviews and more.
Capture business by responding to order signing requests instantly.
Communicate directly with signers to confirm scheduled appointments for superior service.
Mapping both yours and the signer's real-time, en route location against the signing destination.
Receive intelligent notifications based on the status of your signing order.
Get instant support from our knowledgeable TS service team.
Profile & Reviews
Better service in conjunction with Title365 Signings means superior reviews, which equals more business. Prep and show-off your profile. View and respond to professional and consumer reviews that underscore your customer service and expertise. Maintain a high notary rating and get access to exclusive signing orders before anyone else.
View relevant signing metrics on your personal dashboard.
Manage and update your contact information and notary documents.
Adjust your availability and area of service to match your personal schedule.
Price Transparency
That's right. Access a simple and clear structure for pricing. See the fee Title365 Signings charges as well as the fee you, as the Title365 Signings Agent, receives before accepting a new signing order. Then, easily view your entire signing history and invoices right from the app.
What we are looking for
We take pride in who we certify as a Title365 Signings Agent. As such, we only partner with the most respected notaries who meet our comprehensive certification criteria.
Experience
Two years and a minimum of 50 loan signings completed.
Qualifications
Licensed and insured with current background check.
Equipped
Smart-phone know how. Don't worry, we can help.
Full list of Title365 Signings Agent Qualifications
Individual Title365 Signings Agent Application
Copy of Notary License/Commission for all States in which you are licensed
Copy of current NNA Certified and Background-Screened Notary Signing Agent Certificate
Copy of Errors & Omissions Insurance (E & O with coverage not less than $25,000)
Copy of Bond Certificate (as required by individual state)
Copy of Title Producers License (as required by individual state)
Copy of Attorney bar cards or Certificate of Good Standing (if applicable)
Copy of your Valid State Driver License
If you feel you meet our minimum requirements, we want you to be a part of the Title365 Signings team. Register below to learn more about becoming a Title365 Signings Agent. A team member will follow-up with you within one business day.
Notary Sign Up
Become a Title365 Signings Agent today. Register now.
We won't share or sell your information.
Get NSA Certified
The NNA's industry-recognized certification program trains Notary Signing Agents on how to interpret and explain complex mortgage signing documents. The certification includes your industry-recognized background screening and certification exam, enabling Notaries to work for the major title services organizations. Each of the packages includes a listing on SigningAgent.com, one of the leading directories used by title companies and signing services to search for qualified NSA's.