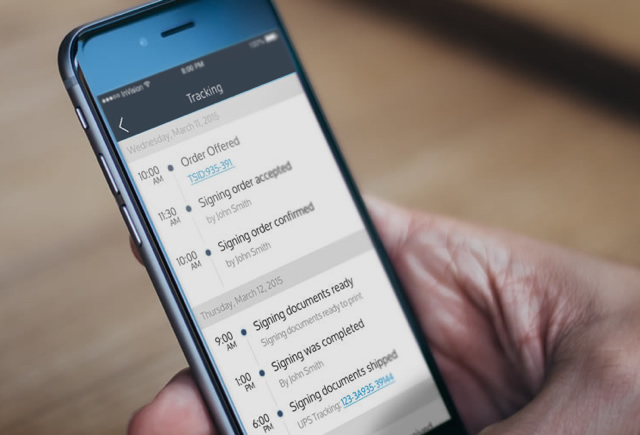 Let us improve your signing experience
Title365 Signings was designed to eliminate friction between service providers, signers and notaries by creating a centralized and transparent signing platform.
At Title365 Signings, our goal is to be an extension of your closing process. It's important that your signers have a seamless experience from start-to-signing-to-close, while providing you with the transparency you require. That's why we created Title365 Signings. From intelligent order distribution and transparent tracking, to superior customer support and only partnering with the most skilled and professional Title365 Signings Agents, Title365 Signings is the right partner for you. Scroll down to learn more about some of the features we offer.
Features for Lenders & Service Providers
Use Title365 Signings to easily manage and track all of your signing orders from one centralized location.
Integration
Choose to integrate directly with Title365 Signings through our Trusted API or through one of our partners to experience the functionality and ease-of-use of our system. Submitting and tracking signing orders in real-time from your production environment has never been more convenient and reliable.
Don't have the IT resources to integrate with our API? We have you covered. Use our user-friendly Title365 Signings application directly to submit orders.
Order Transparency
Each order is tracked from the time it is submitted to Title365 Signings for greater transparency. View the status of a signing order in real-time and receive notifications based on organizational preferences.
A full order history of all signing orders is available through your Title365 Signings access portal. Use detailed analytics on the performance of your signing orders to respond to existing defincies and improve the quality of service.
Process Monitoring
The Title365 Signings platform automatically monitors each stage of the signing process and notifies the Title365 Signings QA team in real-time when a process step exceeds its defined interval. Real-time monitoring allows us to proactively ensure each signing is completed on-time and without error.
Data & Document Security
We understand the requirement of maintaining secure document transfer and storage for our clients is critical. With Title365 Signings, you can be confident that your data is secure. SSAE 16 audited practices along with AES 256-bit encryption ensure the privacy of your confidential data and documents during transfer and in storage. Learn more about Title365 Signings's compliance and security practices.
Performance Monitoring
Continually evaluating the performance of our Title365 Signings Agents is one of the core benchmarks of Title365 Signings. Our proprietary grading process takes into account signing accuracy, agent qualification management, client and signer reviews and everything in between. As a client of Title365 Signings, you'll have access to this constantly evolving performance information, which will ensure you'll always have the most qualified and professional Title365 Signings Agents working for you.
Dedicated Support
At Title365 Signings, we value your business and are just as committed as our partners to delivering a positive signer experience from start-to-finish. That's why each client has access to support representatives well-versed on their account.
Our support is second-to-none so please feel free to contact customer service if you have any questions or concerns. We're always here to help.
These are just some of the features that makes Title365 Signings the right choice for your business. Contact us today to learn more about how we can help: 844-66-TRUST (844-668-7878)